Scientifically proven, super complex carbohydrate, that is the fastest carbohydrate available, used by countless athletes all over the world for decades.

Available in the following flavors: Fruit Punch, Grape, Lemon Lime, Mango, Orange, Plain and Watermelon
Vitargos2 25 Serving
00001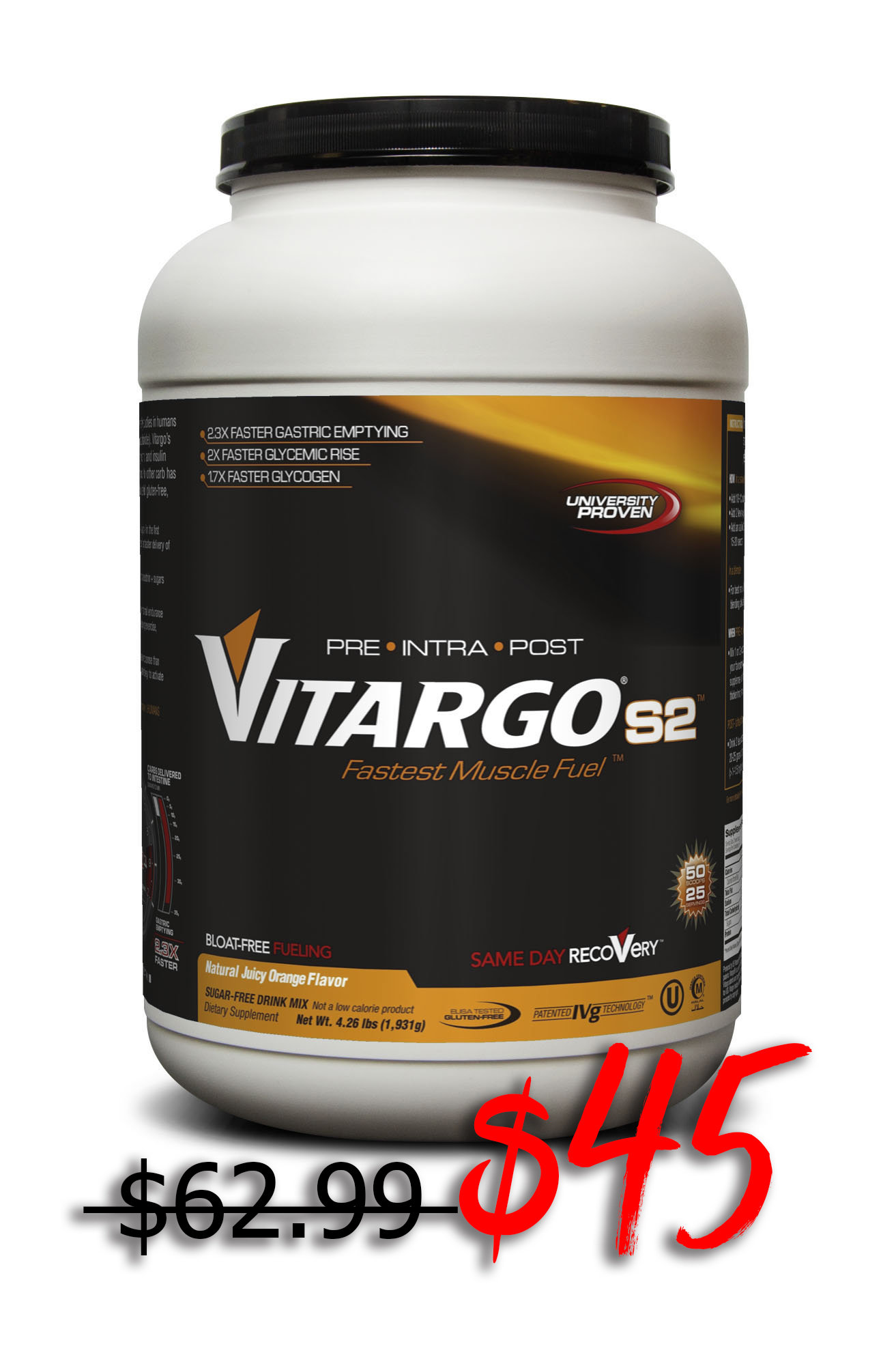 Vitargo is a "Fast Carbohydrate" used to Fuel Performance and Recovery.
VitargoS2 is a non-bioengineered starch, a sugar-free carbohydrate for fueling (before and during) and recovery (after) for any intense training or competition. Vitargo S2 is virtually bloat-proof, produces a 2x faster glycemic (blood sugar) rise, and promotes 1.7x faster muscle carbohydrate (glycogen) and performance recovery (no other starch product has this evidence, especially waxy maize or special "homopolysaccharides").

Vitargo S2 can be made into a drink, a gel/pudding, or frozen, and can be mixed with any other low to zero carb nutrition product (especially pre-workout and protein products). Each batch of Vitargo S2 is certified free of banned substances by the only lab that is WADA experienced in North America, BSCG.org. Vitargo™, Proof Before Promises™.
Ingredients
Fractionated barley amylopectin (Vitargo®) [Source: EU; not bioengineered], natural flavor, citric acid, natural color (grape juice; not bioengineered), sucralose.
Supplement Facts

Serving Size: 2 scoops
Servings Per Container: 10

Ingredient

Amount

% Daily Value**

Calories

280

Calories from Fat

0

Total Fat

0g

0

Sodium

0mg

0

Total Carbohydrate

70g

23

Sugars

0g

Protein

0g

0

** Percent Daily Value is based on a 2000 calorie diet. Your daily values may be higher or lower depending on your calorie needs.
† Daily Value not established.
Manufacturer's Directions
Vitargo S2 is a different engineered carbohydrate - please follow directions closely:

HOW in a shake bottle:
-Add 10-12 oz. of water (room temp. is best) to large shaker bottle.
-Add 2 level scoops of Vitargo S2 and shake vigorously for 10-15 seconds.
-Add an additional 10-12 oz. of cold water and shake vigorously for 15-20 seconds.
In a blender:
-For best results add 2 level scoops into a blender with water while it's blending at low-medium.
WHEN Pre-(before) or Intra-(during) training or competition
-Mix 1 or 2 level scoops of Vitargo S2 as stated above. Feel free to add your favorite pre-workout, amino acid, electrolytes, or other non-carb supplement. Note that Vitargo is a fractionated STARCH and is thicker/more viscous than other powdered drinks.
We accept the following credit cards:
Vitargo is a unique carbohydrate because it is specially processed to yield a high molecular weight profile that is massively different from the carbohydrates that make up sugars (e.g. glucose, fructose, sucrose) and maltodextrin found in ordinary sport, energy, and recovery drinks. Most importantly, Vitargo is proven to work in athletes—in peer-reviewed published university studies. Part of the secret of Vitargo's technology is the molecular size of Vitargo. Scientists use molecular weight (how heavy the molecule is) to determine the size of molecules. As shown in the table, Vitargo is hundreds and thousands of times larger than maltodextrin and sugars.
CARBOHYDRATE MOLECULAR WEIGHT
High Molecular Weight Vitargo:    500,000 to 700,000 g/mol
Maltodextrin:                                      1,000 to 10,000 g/mol
Starch syrup:                                       250 to 1,000 g/mol
Sucrose:                                                342 g/mol
Dextrose (glucose) :                           180 g/mol
But molecular size alone does not make Vitargo unique. Vitargo is made through a special fractionation process that makes it rapidly digestible and therefore capable of delivering glucose to the blood, liver, and muscle at least twice as fast as other ordinary carbohydrates. Other so-called "high molecular weight" carbohydrates are "weightless" when it comes to proof—they have zero university studies showing superior fuel delivery or performance in humans.