Vitargos2 Muscle Fuel 3 10 servings mix and match
3vit20trporg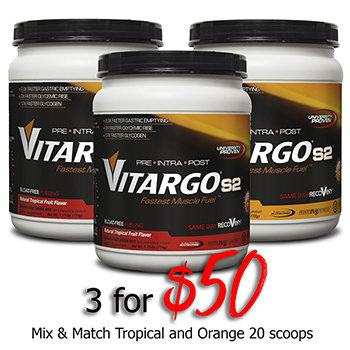 Vitargos2 is a " Fast Carbohydrate " used to Fuel Performance and Recovery . VitargoS2 is a patented, non-bioengineered starch, a sugar-free carbohydrate for fueling (before and during) and recovery (after) for any intense training or competition.
Scoop Amount:20 per container
Flavor Mix
3 Orange (0) 2 Orange with 1 Tropical Fruit (0) 1 Orange with 2 Tropical Fruit (0) 3 Tropical Fruit (0)
Vitargo is proven to work in athletes—in peer-reviewed published university studies.* Part of the secret of Vitargo's technology is its molecular size. Scientists use molecular weight (how heavy the molecule is) to determine the size of molecules. As shown in the table, Vitargo is hundreds and thousands of times larger than maltodextrin and sucrose (dextrose).
CARBOHYDRATE MOLECULAR WEIGHT
High Molecular Weight Vitargo 500,000 to 700,000
Maltodextrin 1,000 to 10,000
Starch syrup 250 to 1,000 Sucrose (Dextrose) 180
Vitargo's larger size minimizes its osmolality, which refers to how much water it attracts around itself, or pulls into your intestines. Vitargo's low osmolality allows it to move through the stomach faster than other carbohydrates, which tend to act more like a sponge in the stomach. This helps you feel emptier compared to any other carbohydrate drink. Spending less time in the stomach allows Vitargo to be delivered faster to the intestinal tract where it is rapidly digested and absorbed. This provides a near immediate energy boost to blood and muscle, superior to other ordinary carbohydrates.* After training or competition, Vitargo recovers glycogen stores faster, allowing for an increase in performance.*